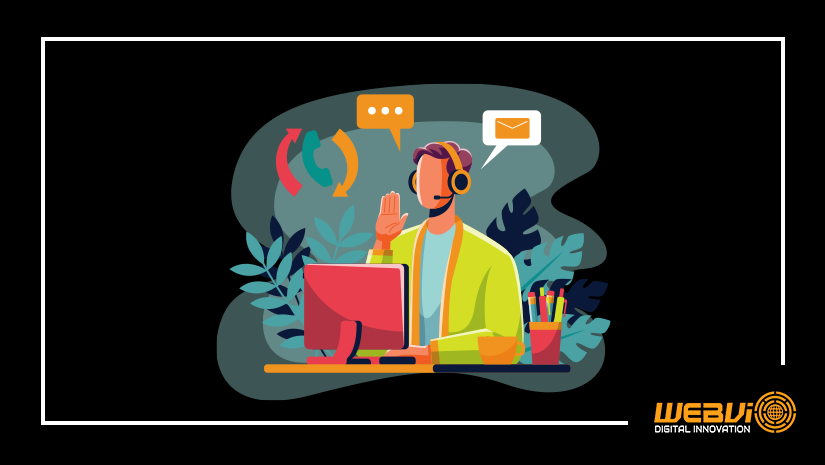 Influence Of The Best BPO Companies and How It Works?
July 19, 2023
Insights of BPO
BPO was first utilized by manufacturing or production companies that require immense outsourcing of their preferred supply chains. As the innovation was programmed accordingly the preferences of the outsourcing altered with many other goods and services. Usually, businesses utilize BPO services for their front and back-office programs. The need for businesses is increasingly outsourcing. Most of their processes are utilized in saving costs while still operating with lots of effectiveness. It is a major expansion from being unfamiliar to being familiar with the works of BPO preferences to the extraction of resources of a business.
How BPO Influences Productivity of a Business
Let's get to the know-how of the best BPO company's procedural influences such as Webvio Technologies, that can help your business to grow its branches across the world and achieve new heights of success:
Economical Cost Procedures: One of the main privileges of accompanying the best BPO company in India is its cost-effectiveness. The best BPO companies like Webvio Technologies have the major provision of skilled professionals who can effectively process various functioning at a low-cost procedure in comparison to inbuilt operations. This demanding economical approach always helps businesses to properly utilize their resources with better strategies that can influence global reach in major platforms.


Core Competencies: Outsourcing basic programs to the best BPO company in Kolkata provides businesses to converge on their major advantages. Entrusting specialized tasks to BPO experts or companies that can secure betterment by directing their resourceful minds and specialized knowledge towards the preferred areas that can alter the direction of revenue generation.


Optimum Tech-utilization: With optimum utilization of expenses, technology may expand the company's reach across the globe. Provocative use of information as a data tool can enhance the value of the business with precise use of the internet. Innumerable advantages can be taken of the provided technology that will uplift the value of the company. Some of the best BPO service companies will give global advertising to increase productivity.


Specialized Expertise: Webvio Technologies have immense exposure to an unlimited wealth of industrial knowledge and expertise. We can virtually employ professionals who are the best of our teams trained in specialized domains and procures in-depth knowledge and experience in their preferred fields.


The flexibility of Resources: Any Business experiences sudden risks, uncertainty, and metabolic fluctuations in demand and distribution which can keep up with the distributive competition accordingly. This can be majorly challenging. Foreign best BPO service companies in Kolkata offer utter flexibility to increase the value of the provided business resources to their optimum value based on your own preferences and business requirements. Whether it's off-season or peak seasons of planning the expansion of business a sketch plan is very crucial if you want to attain global reach you can think about expanding by partnering with BPO service solutions like Webvio Technologies that ensures any businesses have access to the crucial resources that can transform into great values with an adaptivity with dynamic market changes.


Improved Tech-Efficiency: Webvio Technologies, being one of the most competent BPO service-providing companies optimizes processors in such a way that it can easily enhance operational efficiency. They bring tech-leading innovation and data-programmed tools, tech influences, and methods for making the core value of the business with higher productivity. With a major focus on the processed data field and technological improvement, BPO services providers can easily capture global satisfaction, with discreet authenticity, and implement seamless workflows, thus giving enhanced overall efficiency.


Global Reach and Data support: Any sort of business demands major global reach with an exaggerated data landscape with schedule support that is important for success. Webvio Technologies is one of the best BPO companies in Kolkata that have access across variable time zones and uninterrupted services to businesses. We led our hands in encouraging advanced communication systems and leading absolute data security to provide hassle-free out-growth and productive collaboration irrespective of geographic limitations. What are you waiting for then?


Potential Risk: Staying updated along with industrial regulations and alleviating possible risks are the ultimate concerns for businesses. BPO service companies keeps a deep knowledge of that. It maintains the concerned preferences and for securing personal data. We possess vigorous processors to assure website security and protection of web information.


Embrace success with the best BPO services of Kolkata
If you are ready to unlock your business to the grand level? You are just a click away from the innovative transformation of partnering with the best Indian BPO company – Webvio Technologies. With the varied ranges of outsourcing possibilities, we will assure you take your business to unlock its next level possibility with precious growth.
Our BPO service solutions providers will offer you an economical option to assure you of every possible operation, that will allow you to utilize your resources in the best possible way. Your Worries are ours now! Just register Yourself To Our Family! We will push Your Business to its maximum potential.
Click us here https://www.webviotechnologies.com and call us at + 91-33-4600-1760.
Conclusion
The best BPO companies serve as an enhancement guide that behaves like a strategic partner to support businesses in their growing journey. The providers of BPO services help institutions to reach their striving aims and keep them updated in the competitive market. Comprised of outsourcing and releasing the business's agenda, goals and ambition helps in acquiring potentiality by partnering with a brand of BPO service provider.